Photo:Senator Kipchumba Murkome and President Uhuru Kenyatta
Senate Majority Leader Kipchumba Murkomen had some words for President Uhuru Kenyatta over the weekend after the murder of two of his close allies.
He was speaking at the burial of Benson Kiptire whose body was found dumped at Kamatira Forest, West Pokot County with a head injury.
"Benson is lying there because it is a demonstration of a failure of a system of government that was supposed to support the rule of law.
"Benson is an indictment to the government to which I serve and to which I campaigned for. If another government was in power, Benson would not be in that casket. It's painful but it's true," Murkomen spoke.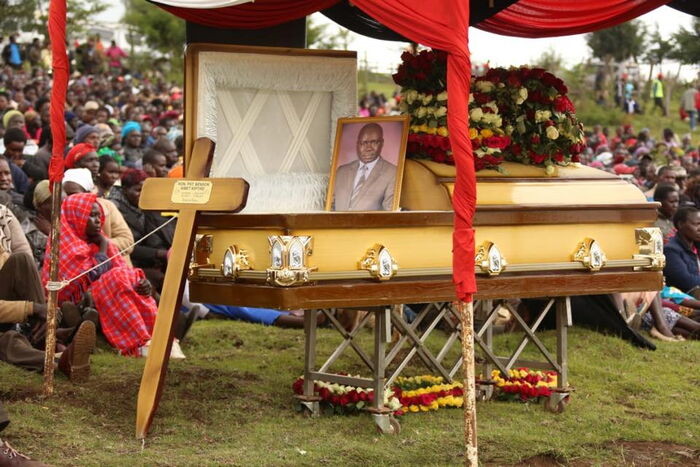 "My message to President Uhuru Kenyatta and am very clear in my mind, security will not be managed in the country through assassination and extrajudicial killings, it won't solve any problem.
"We should not allow people who run our security system in the country to accept a procedure that is a shortcut to solving problems, it is not going to be right. This is not a way to run this nation," the senator declared.
Benson was Murkomen's PA, serving as the County Liason Officer and was abducted on June 22 by people who identified themselves as police officers.
Barely a week after the senator's aide was murdered, Murkomen announced that another ally, Benson Kiptoo also lost his life in cold blood.
His body was found dumped at Chepchoina Forest in Trans Nzoia County.
Murkomen had earlier pleaded with the kidnappers to spare Kiptoo's life after reports emerged that he had been abducted.
"I have received disturbing news that Ben Kiptoo, a teacher from Tebe, Kapyego Ward who is currently teaching at Napeki Primary School in Trans Nzoia County has been missing from yesterday (June 26) 11am and is believed to have been abducted by unknown people.
"The latest tracking shows he is inside Chepchoina Forest. I am also informed he called a few minutes ago expressing concerns about his life. If you are involved I really beg you to spare the life of Mwalimu Kiptoo. Have mercy on him for the sake of his wife and children. Please," he pleaded.